Arsene Wenger refuses to take the bait as he bats away Jose Mourinho's suggestion that Arsenal manager lied
Arsene Wenger has batted away Jose Mourinho's barbed claim that the Arsenal manager was guilty of being economical with the truth about the fitness of Alexandre Lacazette at the weekend.
Wenger had ruled the France forward out of Saturday's visit of Mourinho's Manchester United only to name him in the starting line-up. Lacazette played all 90 minutes and scored his side's goal in a 3-1 defeat.
Mourinho sarcastically praised the Gunners' medical department after the match and returned to the same subject this week by suggesting reports that David Silva might be forced to miss the Manchester derby could be filed under L for Lacazette.
"Matic is injured but will play for sure, I'm telling the truth but he will play for sure," Mourinho declared towards the end of a lengthy injury update. "No stories of Lacazette, David Silva – all the truth."
Wenger, speaking ahead of tomorrow's visit of BATE Borisov in the final Europa League group game, shrugged off the claim, however.
"Yes, I thought he wouldn't play," he said. "In the end he could play. What did you want me to do? Leave him at home?
"He had tests on Friday morning and we thought he wouldn't play. But he was fine and that's football."
Lacazette, who cost £52m from Lyon in the summer, is not likely to start tomorrow as Wenger plays fringe men in cup games.
Fellow Frenchman Olivier Giroud has found himself excluded from Premier League action, as has England's, Theo Walcott. It has been suggested that both players need to leave in January if they are to make their respective World Cup squads, something that is already something of a long shot in Walcott's case.
Wenger insisted that his rotation policy had been beneficial for all, especially on the injury front as it meant all of his players had clocked up minutes. Indeed, only defender Shkodran Mustafi has been ruled out having picked up a minor thigh injury at the weekend.
"The players have been absolutely outstanding," Wenger said. "One of the positives is that the behaviour of the squad is remarkable and impeccable. Even in training when I play the team in Europa League against the team in the Premier League, it's very difficult to predict who will win.
"I will adapt every time and try to pick a balanced team. It's a fight going on and no-one has been ruled out of any game."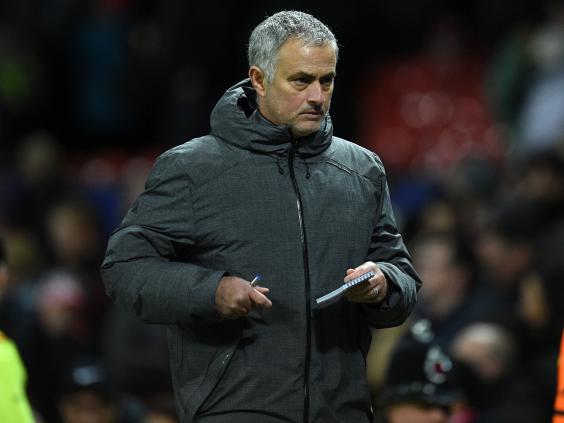 Mourinho also believes that Guardiola's claims about David Silva are not entirely accurate (Getty)
Arsenal has already won their group so Wenger can carry on blooding youngsters like Ainsley Maitland-Niles and Joe Willock.
The Gunners' chances of emulating Manchester United by winning the competition have been reduced by the arrival of some heavyweight Champions League clubs, including Atletico Madrid, however.
Wenger has never been a fan of parachuting third-place teams into the lesser competition but had rarely had to worry about it.
"I was always against it," he said. "We voted many times – that is what you call democracy.
"I don't much worry about that – just think, do we have a chance? Yes, let's give it a go. It's like the FA Cup, it's important we have a go and give absolutely everything."